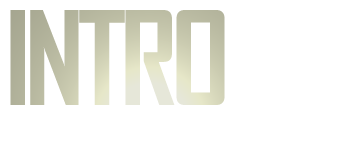 Speak now to Zerubbabel... and to the residue of the people, saying, Who is left among you that saw this house in its first glory? And how do ye see it now? Is it not in your eyes in comparison with it as nothing? Yet now be strong, O Zerubbabel... for I am with you, saith the Lord of hosts. ...Yet once, it is a little while, and I will shake the heavens, and the earth, and the sea, and the dry land; And I will shake all nations, and the desire of all nations shall come; and I will fill this house with glory, saith the Lord of hosts. The silver is mine, and the gold is mine, saith the Lord of hosts. The glory of this latter house shall be greater than of the former, saith the Lord of hosts; and in this place will I give peace... —Haggai 2:2-9
I couldn't sing very well.
I was a really bad player, and I didn't know the first thing about working in a music studio. And that's about the way things started in the Spring of 1981 when I called a meeting on a Saturday morning at Marvel Comics' Madison Avenue offices with bassist William Wallace and his guitarist brother Eugene, lead guitarist Derek Burch, keyboardist John Parker, trumpet player Milton Dilligard and drummer Lester Liburd. Someone else may have been there but I can't remember now. Everyone but Lester was a holdover from William's and my old group, The New Witness Band, whose drummer, Emil, left for school or the army or something. I served really bad pastries and soda, and we sat around Marvel's conference room where I laid out my plans for the New Witness album project.

From there we rehearsed for months in a tiny studio in Brooklyn called Inner City Sound, run by a colorful guy named Danil Dreger, and eventually recorded about a dozen tracks on Danil's 1-inch Sculley 8-track machine. Debra (whose last name I've forgotten) came along later to take the female lead singer position, and I later discovered an 11 year-old kid named Michael Hammond who had a kind of Kid Michael Jackson thing going that I thought worked for a song about my childhood (Daddy, Chapter 1). Derek Burch left for the Navy without laying any tracks (though he returned by the fall of '81 when we went back in to record Mansion In The Sand, Journey, Mr. Ugly and Preacher Man (which does not appear on this compilation because it really was just that bad). Derek was replaced by a mysterious guitarist named Tyrone Stephen Smalls. I can't remember how he got there or when he vanished, but, vanish he did, never to be heard from again. Milton complained mightily about my lame horn charts (and, he was right). Milton's girlfriend, Pearl Bates, also joined the band, and Milton virtually handcuffed himself to her for fear someone would try and steal her.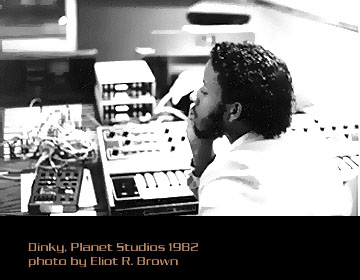 Dinky Bingham, who is now a top R&B sessions man / producer, was also a high school pal, but I was too intimidated by him to even ask him for full-time duty. But, he always came when I asked him to be there, rendering the more competent piano playing that appeared on the album (for which he, bizarrely, went largely uncredited. Sorry Dinky, I'm sure I meant to include you in the general credits as pianist, which is why no individual per-song credit appeared).

I'm not sure if Dinky ever actually realized how much I admired him. If I kept my distance, it was more out of deference to the fact that everyone was pestering Dinky for favors in those days. I have a vague recollection of Dinky's seeming envious of my hip bachelor pad or my new car. I doubt he knew I'd have given him all of the for just one tenth of the talent this 16 year-old kid had. It was an odd relationship, and I'm sure I came across like a snob at times. I wasn't a snob, I was just cowed by this giant among us. And I loved him like a brother.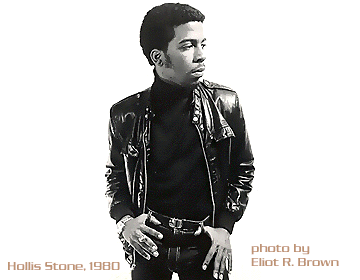 This project, originally a group concept, became a solo one once Debra withdrew and we had to recut her songs with Pearl (I've included Debra's originals here), and once Tyrone vanished and other things. By then, I had taken on a pseudonym, something I thought sounded like a rock star. I named myself after the section of Queens, NY I lived in- Hollis. And, to make myself sound "hard," I added the Stone.

The group went through a number of changes, and there were multiple takes of everything. I became exhausted and at some point just called it quits. Darlene Cole, my best friend in the world, talked me into finishing the project, and in late 1981 I went back into the studio, this time with Derek Burch ironically subbing for the now-missing Tyrone, re-dubbed Michael's vocals, added Pearl's tracks, and re-did lots of backgrounds with a pair of gorgeous singing twins named Florence and Yanick Manigat.

It was during these sessions that Yanick bumped her head on the glass window in the control room, sending the band to the floor in stitches and earning her the unkind nickname "Yanickhead."

Once we had a finished mix, I went through the process of educating myself about the mastering and pressing process. Eliot R. Brown took photos and did the mechanical paste-up. Jose R. Albelo designed the "New Witness" logo. MasterDisk pressed the master cylinder.

Streetwise, Hollis Stone's first album project, was released to an audience of maybe two dozen in March of 1982. We had a party at my place on Michael's 12th birthday, and all I really remember about it was someone stole my Walkman.

Everybody got five copies of the record. It was a really bad album. We really had fun making it.

This is The Story of Us. It's all of our story; high school friends who loved and grew and fought and moved away. 67 songs. 4 discs, 1800+ hours of studio time. Thirteen years of life reflected in marginally listenable music.

The music actually has precious little artistic value. Like most demos, this stuff's true worth is in the sentimentality it evokes only of the people who created it. It brings us back to a time in our lives when we still believed we could be stars. When life was three chords and a phase shifter. Long before sequencers or samplers or digital anything, this was living, breathing high school kids banging on stuff in that crowded little room in Brooklyn. It was the time of our lives, and the discs I've included here may seem worthless to you, but they are precious to us.

These pages contain biographical sketches of over thirteen years of adventures in music.
Christopher J. Priest
January 2000 UPDATED OCTOBER 2013